The FN P90 is a popular sub-machine gun seen and used by most of the terrorist groups in the SOCOM Series.
FN P90

Type

Submachinegun

Manufacturer

FN Herstal

Country of Origin

Belgium

Cartridge

5.7x28mm

Capacity

50 rounds

Damage/SP

Medium- High

ROF

High
Background
Edit
The FN P90 is a sub-machine gun with a high magazine capacity and good stopping power. It holds 50 rounds of 5.7x28mm PDW cartridges capable of penetrating body armor and has a high ROF for efficient kills.
Advantages
Edit
50-round magazine.
5.7mm ammo provides more stopping power than the HK5.
Disadvantages
Edit
High ROF making bad recoil
Bad at medium to long ranges
Weak for unarmored targets
Ammo is rare
Needs Superb LI Rating to be used
F90

Weapon Slot

Secondary

Magazine Size

50 Rounds

Rate of Fire

High

Fire Modes

Fully Automatic
It makes an appearnace in SOCOM: U.S. Navy SEALS Fireteam Bravo 2 under the name F90, where it has a 50-round magazine.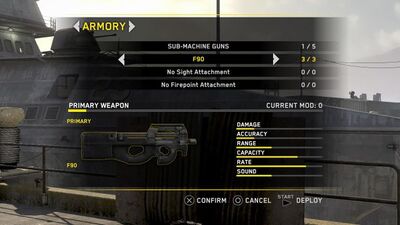 The F90 in SOCOM 4: US Navy SEALs
Ad blocker interference detected!
Wikia is a free-to-use site that makes money from advertising. We have a modified experience for viewers using ad blockers

Wikia is not accessible if you've made further modifications. Remove the custom ad blocker rule(s) and the page will load as expected.