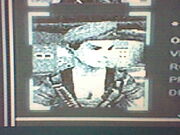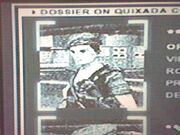 Quixada Christo is a terrorist leader in SOCOM II: US Navy SEALs
Biography
Edit
Quixada grew up in he slums of Rio de Janeiro. She was the daughter of a prostitute and a wealthy industrialist and seems to have a strong resentment of men.
Quixada Christo is the leader of the Revolutionary Armed Forces of Brazil (RAFB), an organization that she founded. She is well versed in hand-to-hand combat, tactics, chemistry and demolitions skills that she is believed to have learned from former associates that she later murdered as part of a shamanistic blood fetish. Her stated goal is to destabilize the Brazilian government, but INTEL suggest that she will not stop there. A persuasive leader in her own right, she is rumored to seek control of the country once the current political structure collapses.
Ad blocker interference detected!
Wikia is a free-to-use site that makes money from advertising. We have a modified experience for viewers using ad blockers

Wikia is not accessible if you've made further modifications. Remove the custom ad blocker rule(s) and the page will load as expected.