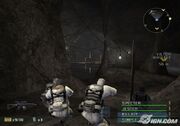 &nbsp
Reprisal is the second mission in SOCOM: Combined Assault where the team must destroy a cave network and find a member of the missing fireteam.
Walkthrough
Start the mission with a low-range weapon. After you are dropped off by the helicopter, run up to rocks on your right and kill the three paramilitaries up near the bridge. Afterwards, cross the bridge and kill the three or four snipers on ridges above you. Then run on the footpath and into the cave system. Go to the right and on a ledge you will find a sasuage. Go inside the cave and kill all the paramilitaries
Ad blocker interference detected!
Wikia is a free-to-use site that makes money from advertising. We have a modified experience for viewers using ad blockers

Wikia is not accessible if you've made further modifications. Remove the custom ad blocker rule(s) and the page will load as expected.